Kazakhstan Has Finally Embraced 'Borat' With A New 'Very Nice' Tourism Campaign
It only took 14 years for Kazakhstan to come around to the unique opportunity mustachioed pervert Borat Sagdiyev presented, finally getting in on the joke with a tongue-in-cheek tourism campaign owning the slogan "Kazakhstan. Very nice!" – because if you can't beat 'em, join 'em.
When Sascha Baron Cohen released Borat into the world, the eponymous fictional main character's home country of Kazakhstan was horrified. They banned the flick and even threatened to sue Cohen for its negative depiction of Kazakhs.
Now, they've done a backflip, deciding instead to embrace Borat's main catchphrase "very nice!" and leverage the Borat sequel release to their advantage. Yes! High five!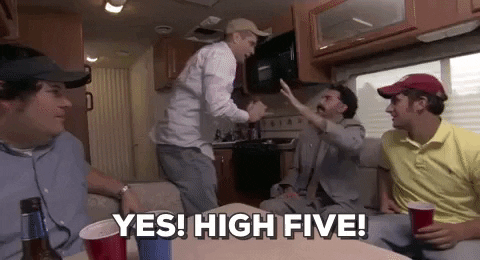 If you don't remember exactly why former Soviet republic Kazakhstan officials were outraged by the first Borat, here's a refresher.
Cohen's character Borat was worried that he would be executed by Kazakhstan if the film wasn't a success; the film's fictional version of the Kazakhstan national anthem begins with: "Kazakhstan greatest country in the world, all other countries run by little girls"; he says the nation drinks horse urine; and hosts an anti-semitic 'running of the bulls' where the bulls are Jews… you get the idea. No surprise Kazakhs were miffed.
But despite all their protesting, it got Kazakhstan nowhere. According to the New York Times, when they caught wind of the sequel, the government decided to do nothing. Kairat Sadvakassov, the deputy chairman of Kazakh Tourism, was determined to avoid overreacting and letting Cohen make it look foolish once again. "The decision was made to let it die its natural death and not respond," Sadvakassov says.
Then comes the cool twist in this story. Back in a pre-Borat 2005, American Dennis Keen decided to do his 2005 summer exchange program in Kazakhstan as a laugh because "people didn't know where it was," he tells NYT.
However, that trip would end up changing the trajectory of his entire life – Keen then studied at Stanford with a professor from Kazakhstan, moved back to the country, married a local, started a family, started a tourism business and also hosts a national travel show.
He confesses that he's considered to be "kind of like the American Borat," and didn't want the opportunity to piggyback off Borat Subsequent Moviefilm to pass the country by. It was only right that Kazakhstan got a little something back.
Keen and his pal Yermek Utemissov wound up persuading the tourism board to leverage the sequel, take Borat's catchphrase and make it their own. At a time when tourism spending was on hold, they even offered to produce the ads themselves for free.
And this is how the world was gifted with four shmick, 12-second internet ads, showing the stunning landscapes, food markets (that's a fermented horse milk that guy is drinking, not urine FYI), city landmarks and friendly locals.
Wow wa wee wa, Kazakhstan does look very nice, yes.
After learning about the campaign, which was in stark contrast to the country's previous extreme response, Cohen himself  issued the following statement via email:
"This is a comedy, and the Kazakhstan in the film has nothing to do with the real country. I chose Kazakhstan because it was a place that almost nobody in the US knew anything about, which allowed us to create a wild, comedic, fake world. The real Kazakhstan is a beautiful country with a modern, proud society – the opposite of Borat's version".
We love to see it.
(Lead Image: Borat / 20th Century Fox)
Sonia Taylor
Sonia feels most at home on the road, with travel her greatest passion. But really, she's hype about a lot of things: beautiful design, tasty food, wellness, nature, interesting people and women's issues. The Founding Editor of Junkee's The Cusp and former Homes Editor at Nine, Sonia prides herself on seeking out authentic experiences with charm and loves sharing a personal rec. Catch her on Instagram @sonnietothetee.