How To Do London On A Shoestring (Without Missing The Best Bits)
London has a reputation for being an expensive town to see and enjoy. And it's easy to see why. Breaking for a pint or two between covering the sights can easily leave a dent in your wallet and make you feel as though experiencing the city is style is out of your reach.
But with good planning and a trusty Oyster card, there are ways to explore decadent London for little to no cost. We've rounded up the top four ways to explore London that won't leave you frantically working out the exchange rate in your head.
#1 See the sites for cheap by taking a walking tour
All good travellers know the value of a free walking tour. Not only do they give you a great overview of the city, they're a great way to meet other travellers and narrow down your list of places to visit again to explore in your own time.
London has a tonne of free* tours that track the main attractions, the city's street art and must-see cultural sights. And for the history buffs among us? Try the iconic Jack the Ripper tour. Free tours run each night and are taken by top-notch professional actors looking to finesse on their improvisation skills. Learn about Jack the Ripper's victims and take a stab (excuse the pun) at who the persona behind London's most infamous murderer truly was.
If you're feeling less morbid and more magical take the Harry Potter tour that runs every day at 3.30pm from Leicester Square. The tour maps iconic streets and buildings that inspired J.K. Rowling's novels and later appeared in films including sights like the Ministry of Magic, the Leaky Cauldron, and Diagon Alley.
*Although technically free, tours run on a tip basis. So support the arts and tip your guide as much as you think the tour was worth.
---
#2 Market hop to sample the best food for free
London has more world class restaurants than you can poke a Michelin star at, but how many of us can afford that on reg? Never fear, though, because there're still ways to discover London's elite foodie scene without the hefty price tag. How? Markets.
The best food markets are dotted across London and offer all kinds of tasty delights for cheap prices, or, for free. Slowly meander past a stall and you'll undoubtedly have multiple 'samples' thrown at you. Accept these offers with grace.
For food, Borough Market is the most well-known and is open everyday. Based in the centre of town along the river, it's easy to get here by bus or tube, and you can spend hours lost in it's labyrinth. Explore the food stalls (and samples) then wander into the produce section and look in awe at the beautiful displays. Then go back for more samples.
[media_embed]https://youtu.be/rJXC-f1HU_o[/media_embed]
On Saturdays, things get busy in East London. Head to Brick Lane for a mix of great food and vintage wares. Then take a 30-minute walk to Broadway Market to sample more incredible food while soaking up the atmosphere of live music and handicraft stalls. On Sundays, head to Spitalfields Market, where over 150 stalls operate. Rinse and repeat the samples trick.
---
#3 Get your culture on and enjoy all the free entry
Generally speaking all the big museums and galleries in London offer free entry, yay for us! Special exhibitions can be a bit pricey but if you are gagging to see the permanent collection of the Tate Modern, the National Portrait Gallery, or the Victoria and Albert Museum, it won't cost you a penny. Take your time to explore some of the oldest collections in Europe and not worry about the cost.
Once you've properly absorbed all the must-sees, be sure to check out collections that might not be included in your guidebook highlights, like the Wallace Collection, the Wellcome Collection, and The Zabludowicz Collection all of which also have free entry.
---
#4 Parks, parks, parks, parks
Is there anything better than being outside? For Aussies in London, sometimes the answer is 'yes', depending on the weather. But having said that (even under misty, foggy skies), London's parks are a sight to behold. London has plenty of park life to offer city-dwellers and travellers alike a reprieve from the hustle and bustle of the big smoke.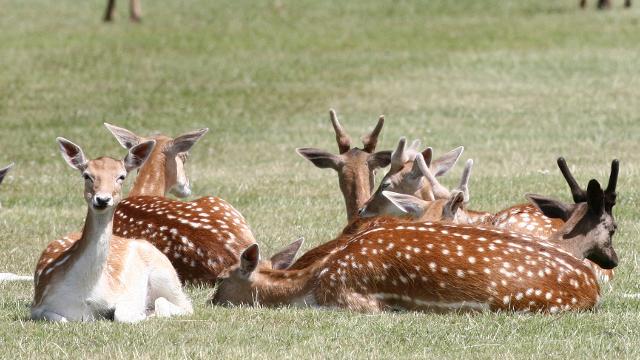 Richmond Park is the largest Royal Park in London and is well-known for being home to 650 deer. Hampstead Heath is famed for it's stellar views over the city and enough green woodland to feel as though you have exited the city. South of London, Crystal Palace Park is quirky and worth a visit for the curious. The park is home to dinosaur models built by the Victorians that now lurk behind trees and a maze to be lost and found in. Escape the crowds and take a breath in London's green havens without reaching for your wallet. Oh, the serenity.
With so many thrills to tick off your London bucket-list (without spending a cent), the only thing you'll wish you had more of is time!
[qantas_widget code=LHR]Check out Qantas flights to London.[/qantas_widget]
Claire Dalgleish
Claire Dalgleish is a freelance writer and art curator who currently lives in Sydney. She woke up like this. You can read more on her blog art/writing/projects and follow her via @art.writing.projects