5 Incredible Nature Experiences A Stone's Throw From NYC
The urban crush of Manhattan is exhilarating, but it can leave you without breath – thankfully, beauty and space are just a short train trip away. Head a short way upstate or out along Long Island and experience some of New York State's gems.
[listicle]
Sunken Forest – Fire Island
Ancient gnarled holly trees press in on the boardwalk trails around Fire Island, a thin barrier between New York and the deep Atlantic. Hop on the Long Island Railroad and take a short ferry trip to Sailor's Haven in order to reach the Sunken Forest, which lies low between lines of dunes. Walking the length of the rare forest can be done in an hour, and if you head a short way west you'll find Cherry Grove, a famously LGBTQI+-friendly resort town. In the summer months, lifeguards patrol the beach at Sailor's Haven if you fancy a dip after the walk.
Photo: David Gohring/Flickr CC
---
Bear Mountain – Hudson Valley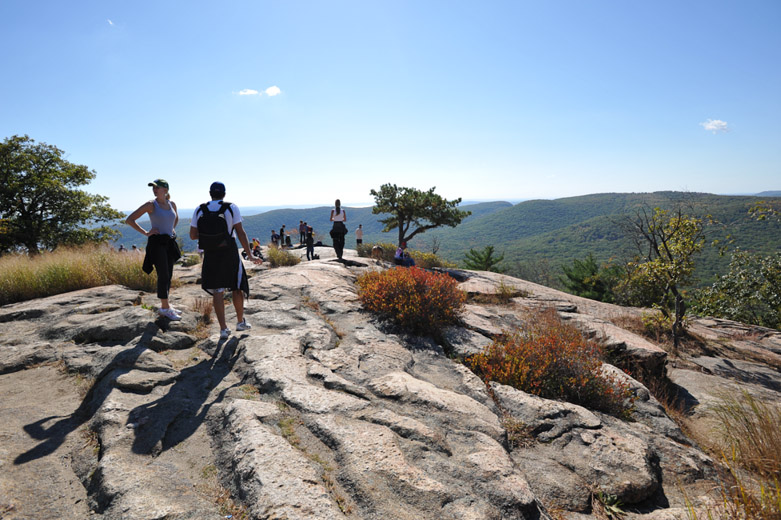 Bear Mountain and Harriman State Parks boast more than 370km of looping, intertwined trails that rise up into the highlands and circle around Bear Mountain. This is serious hiking territory, and includes a stunning stretch of the Appalachian Trail which runs from Georgia to Maine.
If you like a little history with your nature, set out on ancient trails for the ghostly Doodletown (from the Dutch Dooddel meaning 'dead valley'). Despite the name it's actually pretty spooky – an isolated hamlet tucked between mountains. It was abandoned 40 years ago, and now only ruins and graveyards remain.
Bear Mountain and surrounding parks provide less intense experiences of nature too – a 10km hike to Pine Meadow Lake will reward you with a crystal-clear swimming hole to cool off in, with sunny flat rocks for lazing around on.
Bear Mountain State Park. Photo: Parks, Recreation and Historic Preservation
---
Storm King Art Center – Storm King
A massive outdoor sculpture park in the shadow of Storm King Mountain is a surprising highlight of upstate New York. I visited in mid-October (after checking my favourite foliage prediction map) when the reds of the forest leaves were resplendent against a cloudless sky. The park designers cleverly blend sculptures by masters like Sol LeWitt and Maya Lin into open spaces and forested trails, which makes the experience of wandering around a bit like a surreal Easter-egg hunt.
To get there, you can take the train from Manhattan to nearby Salisbury Mills station, but make sure you've got a timetable and a plan to get back to the station in time. I wasn't so prepared, and found myself waiting in the encroaching dark and cold, frantically calling every taxi company in the vicinity and ending up in an $80 cab across the Hudson.
Storm Mountain Art Center. Photo: Philippe Roos/Flickr CC
---
Breakneck Ridge – Hudson Valley
My favourite place in New York State is the aptly named Breakneck Ridge, across the Hudson from Bear Mountain. The ascent is seriously steep if you start at the recommended trailhead on the north side of the mountain, but a more relaxed approach is available from the south and can be accessed by walking from Cold Spring train station. I found a trail heading up close to the road, but a few minutes along the trees became denser and the sound of cars dropped away, and I was alone with the trees.
Further up there are ruined stone houses, beautiful mountain streams and tumbled boulders. Once you reach the peak, you'll be surrounded by majestic views of falcons wheeling above the Hudson River. On a sunny day it is transformed into a river of gold. After NYC, you'll be surprised how fresh the air is up there, just a few train stops away.
Photo: karlnorling/Flickr CC
---
Untermyer Park – Yonkers
Less than an hour north of Grand Central Station in Manhattan, entering this historic park is like stepping into another world. Once the site of a great estate, the surrounding forest has long overgrown crumbling structures and the park is now a habitat for skittish deer. We fed the deer nuts but as soon as we got too close they ran away silently, little white tails bobbing above the undergrowth.
Despite the encroaching forest, several buildings are still intact, including a Grecian amphitheatre and classical pavilion. It all seems frozen in time and beautifully decayed, like a Sofia Coppola movie. In the evenings, you can watch the sun coming down over the Palisade Cliffs across the Hudson River, and feel a million miles from the city. Then for dinner, head up the road to Gianna's – a classic family-style Italian place with brick-fired oven pizza.
Photo: Rick Marshall/Flickr CC
(Lead image: Bear Mountain State Park)[/listicle]
---
[qantas_widget code=JFK]Check out Qantas flights to New York.[/qantas_widget]