We've Ranked A Bunch Of Hard Seltzers To Find Out If 'White Claw' Is Really The Best
It's about that time again for me to get drunk in the name of research. This time, I've been compiling some opinions on the alcoholic seltzers trend that have come to Australia in a frenzy since White Claw hit our shores.
Personally, I'm a big fan of sparkling water, and alcoholic drinks that don't taste like I'm drinking liquor — so this would probably go well, right? They're also supposed to be lower in calories, but we're talking about alcohol here so it's not like there's a 'healthy' way to drink so I hate that as a buzzword, TBH.
I've ranked everything based on the three most important factors: how many standard drinks in a can, how much (or hopefully little) it tastes like straight alcohol, and the level of fizz. Here we bloody go:
White Claw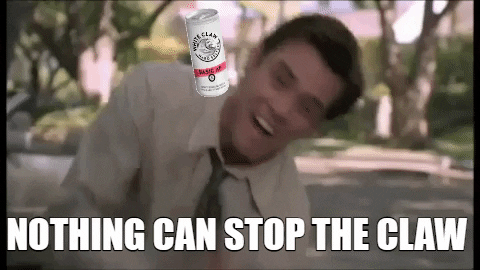 It's only fair to start with the original, and the inspiration for many a meme. Since coming to Australia in October this year, White Claw has been flying off shelves — but is it hype, or is it actually good?
The answer is yeah, it's pretty good actually. Overall, the flavour is very subtle, much more like the non-grog flavoured sparkling waters you might have tried.
Alco percentage: 4.5%, 1.2 standard drinks. While I did try one brand that was equal in strength, there wasn't one stronger. Which is both dangerous and delightful.
Fizz: 3/5 – I'm a person who loves big aggressive bubbles in my drinks, which these were not, but there were definitely bubbles.
– Natural Lime
Flavour: 3/5 – Literally just tastes like water with a touch of lime. If you're just after something refreshing and you're not into beer or rosè, this is for you. Personally, I felt like I got the faintest hint of liquor int he after taste, but the two people tasting with me disagree.
– Mango
Flavour: 2/5 – It smells like that mango syrup stuff, but to be honest it tastes more like passionfruit. She's a strong, sweet girl and definitely my least favourite White Claw.
– Grapefruit
Flavour: 4/5 – I love a little bit of grapefruit in any context, and apparently White Claw is no different. Just a little stronger than the lime to mask any alcohol, but not sickly like the mango.
Saintly Hard Seltzer
I started with the original, but allow me to continue on with the BEST one, no questions about it. Not just based on me either, this is a fairly unanimous opinion from everyone in the office who's tried hard seltzers.
The flavours taste like less of an after thought and more of the main event, without being sickly sweet. The fact they're independently-owned and locally produced in Australia is a just a big old cherry on top.
Alco percentage: 4-6% depending on the flavour, 1.2 standard drinks.
Fizz: 5/5 – Finally, a fizzy boy!
– Hail Mango
Flavour: 5/5 – Pretty much does what she says on the tin, tastes like mango without tasting like fake sweetness.
– Watermelon & Mint
Flavour: 6/5 – This is the most original flavour of the brands I tried, and it paid off. When is watermelon and mint NOT a good combination though?
– Blessed Lime
Flavour: 5/5 – Personally, my favourite effort at a lime flavour.
– Forbidden Pink Grapefruit
Flavour: 6/5 – See above re: my grapefruit obsession. But genuinely, this is the absolute jam and the best hard seltzer you'll put in your mouth. There will be no follow up questions.
Fellr
If you're someone who picks their alcohol based on the packaging, then this is your guy. These cans are beautiful and will class up your table, even if you're not being classy. They're also Aussie brewed, and again, we stan a local hero.
Alco percentage: 4%, 1 standard drink.
Fizz: 3/5 – pretty much on par with White Claw for fizz levels.
– Dry & Lime
Flavour: 4/5 – It tastes just like ginger beer. I personally don't like ginger beer, so I would have given it a three, but everyone else with me did.
– Lime & Soda
Flavour: 4/5 – Look again, I bumped it up a few points because even though it wasn't my personal cup of tea, this was the favourite of my other two tasters. A stronger lime flavour than White Claw, but more real tasting than Smirnoff.
– Watermelon
Flavour: 4/5 – Honestly, loved this one. It tasted like those sour watermelon lollies and I'm into it, although one of these would probably be enough with the sweetness.
Smirnoff Seltzer
What I do enjoy about these ones is that they have premium vodka, instead of a very vague "alcohol" in the White Claws (apparently it's malt liquor). What I don't like is… well almost everything else if I'm telling my whole truth. Although I didn't get to try the Passionfruit flavour, so who knows, maybe that was the winner.
Alco percentage: 4.8%, but still just 1 standard drink in a can.
Fizz: 1/5 – about as low fizz as a fizzy drink can be, if I'm honest.
– Natural Lime
Flavour: 1/5 – The flavour wasn't overpowering exactly, in fact I'd still say it was relatively subtle. However the lime was more of that blunt, zesty lolly lime and there was still a slight but real vodka aftertaste.
– Raspberry Rosé
Flavour: 2/5 – Better than the lime, but smelt exactly like Passionpop and tasted like a subdued Cruiser and I haven't been a teenager for a long time, so it wasn't for me.
Moon Dog Fizzers
Because I'm just one person and alcohol poisoning is a thing that exists, I called in a little help to get through them all. Alana Young tasted Moon Dog Fizzers and had this to say for them:
For reference, my taste in alcohol is alarmingly childish: I almost exclusively drink sweet, and sugary drinks like cider and sour beer.
I've tried a few other seltzers but these ones have been my favourite so far! They're much sweeter and more refreshing than other brands I've tried. I'd happily take a case of the Piney Limey or Coco Mango to a garden party this summer and then when I get drunk enough, insist that my friends try them.
Alco percentage: 4%, 1 standard drink. Fizzers aren't too alcoholic, which is a good thing re: "I could very easily smash a case of these on a sunny afternoon". They're sweet but strong enough to know that they're alcoholic.
– Tropical Crush
Flavour: 4/5 – it tastes exactly like Passiona (an underrated soft drink mixer, tbh) and I could very easily smash a case of these on a sunny afternoon. Dangerously tasty, but worth the risk.
Fizz: 2/5 – alarmingly little fizz for a drink called a Fizzer.
– Piney Limey
Flavour: 5/5 –  I don't know how Moon Dog made a seltzer that tastes exactly like a Splice ice cream, but my god, they did it! It's got the tangy pineapple and lime but it subs out the creaminess of the ice cream for a light and refreshing finish. Literally perfection, never change a thing, my favourite of the Fizzers.
Fizz: 3/5 – more fizzy than the Tropical Crush, but also I feel like this flavour doesn't need to be very fizzy to be good. It tastes like your grandma made a fresh batch of pineapple and lime soda – sometimes that's enough.
– Strawbs & Cream
Flavour: 4/5 – this one tastes exactly like a Strawberry & Cream Allen's lolly, which is delicious, but that means it also has a creamy aftertaste, which is alarming in a seltzer. While I could happily drink a few cans of the other flavours in one sitting, I could really only have one of these at a time – but I'd really enjoy the whole thing.
Fizz: 3/5 – also not very fizzy, but that's a good thing because of the creamy taste.
– Coco Mango
Flavour: 4/5 –  it's dangerous how much Moon Dog Fizzers taste like classic Aussie treats, but I'm also not complaining. This one tastes like a Weiss bar – mango and a light coconut ice cream. I normally don't go in for coconut flavoured things but this was a close second to the Piney Limey. The flavours just work, especially leading into summer.
Fizz: 4/5 – this was the fizziest of the lot, which made the flavours seem even more refreshing. However, I will admit that none of the Fizzers are particularly fizzy.
(Lead Image: Provided / White Claw)
Kassia Byrnes
Kassia is the Editor of AWOL, and a straight-up travel addict. She was born without a sense of direction, yet an intense desire to explore the world. As such, she's lost 90% of the time but she's learned to roll with it. You can catch her latest adventures on Instagram @probably_kassia.