Naoshima: The First Timer's Guide To Japan's Favourite Art Island
I knew nothing about Naoshima island until a friend of mine visited two years ago. She came back raving about this tiny little island in the south of Japan, completely dedicated to contemporary art. I had to know more.
[related_articles]60711,61169[/related_articles]
Though Naoshima island is a bit of a mission to get to, the destination is well worth every single bullet train, ferry and bus you'll need to take to get there. This is an experience you shouldn't miss. Plus, you'll get to see the giant Naoshima pumpkin.
Getting to Naoshima island
Naoshima is fairly easy to get to by train – and if you've not yet travelled by train through Japan, be prepared to have your mind blown by the efficiency and ease of Japanese public transport. Grab a JR Rail Pass in Australia before you go – they're only available outside Japan. These passes will give you access to most train lines and make acquiring tickets easier, quicker and much cheaper.
[related_articles]59385,59903[/related_articles]
It'll take around a full day to get to Naoshima from Tokyo. Take the Shinkansen (bullet train) Nozomi or Hikari train from Tokyo to Okayama (3.5-4hrs). From Okayama Station take a JR Uno Line train to Uno Station (you'll need to transfer once at Chayamachi station). Uno is the end of the line, and once there, simply walk across the road to the ferry terminal, where can take a ferry to Naoshima island (Miyanoura Port).
Designed by Kazuyo Sejima and Ryue Nishizawa of SANAA in 2006, you'll find little shuttle buses at the ferry terminal, there to take you around Naoshima island and drop you off at the hotel or hostel where you're staying. If you're lucky enough to stay at the island's most acclaimed accommodation, Benesse House, a private hotel shuttle will be waiting for you.
Getting around
The easiest (and most fun) way to get around Naoshima island is by cycling. We recommend hiring one of the electric bikes (you might laugh now, but you'll thank us later), they're super fun and definitely make it much easier to traverse the hilly areas. You'll receive a map of Naoshima before getting on the ferry at Uno station, meaning you'll be able to easily navigate your way around the island. There is only one – yes, one – taxi on the island, so bike or shuttle bus is best.
Museums on Naoshima
For me, the Chichu Art Museum was easily my favourite of all the art sites. Chichu (meaning "underground" in Japanese) was designed by Tadao Ando (an architect from Osaka) and is an incredible concrete gallery – full of winding passages, courtyards and gardens – that perfectly connects art, architecture and landscape. The James Turrell exhibitions, of which there are a few here and around the island, can be enjoyed at any time of day, but we highly recommend booking a seat for the sunset viewing of Open Sky at Chichu. You might get a slightly stiff neck looking up for so long (!), but it will be worth it.
[related_articles]36853,34771[/related_articles]
The museum itself houses a permanent collection featuring only three artists – Claude Monet, James Turrell, and Walter de Maria. The size and scale of the Monet room, dedicated to his water lillies, absolutely blew my mind – it is simply so beautiful.
Naoshima island is also home to the 'Yellow Pumpkin', a black-dotted sculpture by Japanese artist Yayoi Kusama. Created in 1994, the Naoshima pumpkin has become an iconic symbol of the island, attracting many art appreciators. Standing nearly 2m tall, the Naoshima pumpkin can be found at the end of a pier at the Benesse Art Site.
Where to stay
For accommodation that won't break the bank, try something a little different. Book a Mongolian yurt at Naoshima Tsutsujiso Lodge. If you're looking to splurge, though, we strongly suggest you book a room at Oval, in the Benesse House and Museum. Also designed by Tadao Ando, this incredible Naoshima hotel sits high on the hilltop, offering beautiful views over the Seto Inland Sea.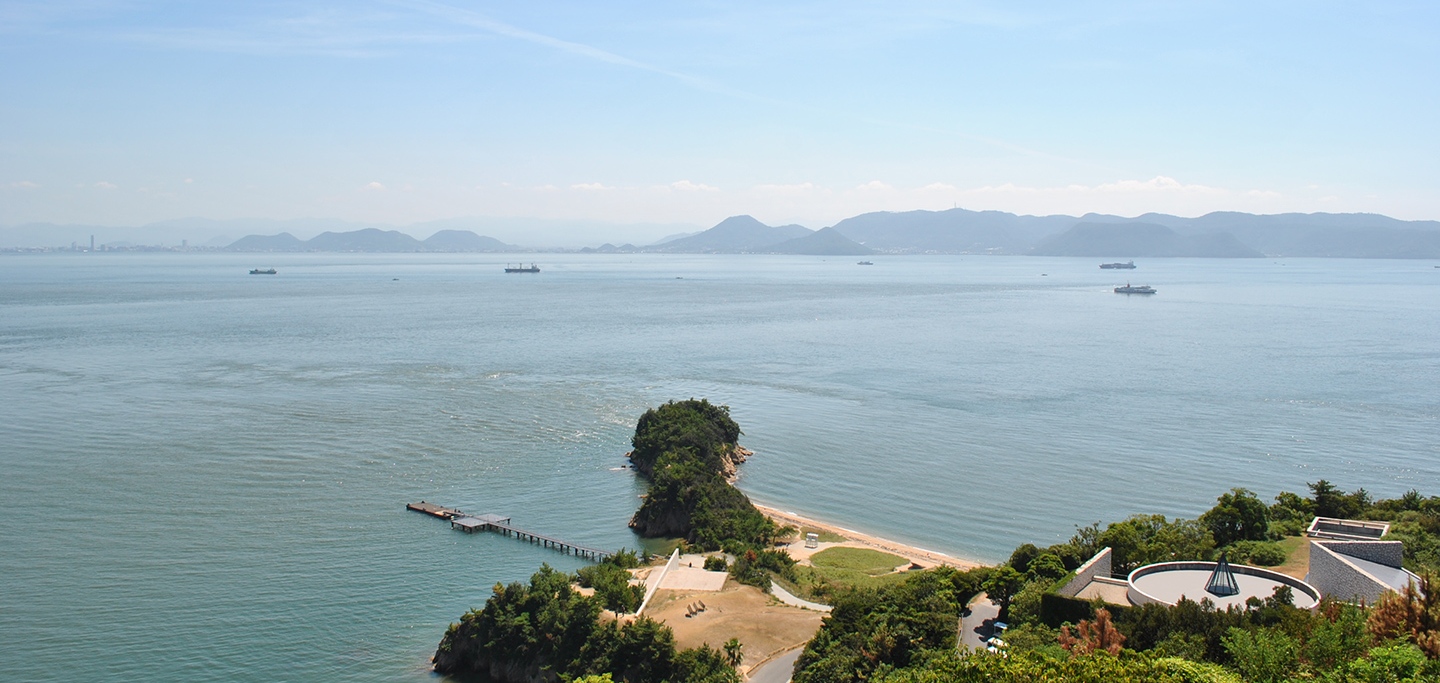 There are only six Oval suites in the hotel, and these are only accessible by a little green funicular railway that carries you up the hill. Only guests are allowed up, giving you a great deal of privacy, too. The incredible blue-shaped oval building also has a rooftop terrace offering spectacular 360 degree views and your own private sunsets.
Where to eat and drink
Admittedly the good eating options are fairly limited on Naoshima island, although we did sniff out a few amazing spots. Start the day with fresh bread from the beautiful wooded Pan Tocori Bakery and a coffee from Cafe Konichiwa – it's like sitting in someone's lounge room.
After visiting Minamidera, part of the Art House Project, head up the hill to Cafe Salon Naka-Oku. It's great for lunch or dinner (though you need a reservation), and you can't leave without trying the egg on rice. It's a gorgeous, cosy little bar and restaurant with tatami mat seating and big windows looking down over the island.
[related_articles]40882,59341[/related_articles]
We also liked Okonomiyaki Umikko for very low-key (but very legit) Japanese pancakes – cooked in front of you – and for something much more fancy, the degustation menu at Benesse House's own Terrace restaurant (bookings are absolutely essential).
Want more?
If time allows, take a boat over to the neighboring island of Teshima. Perhaps not as well known as Naoshima, this will be the most wonderful surprise of your whole trip.
[qantas_widget code=HND]Check out Qantas flights to Japan.[/qantas_widget]
Georgia Hopkins
Georgia Hopkins is the friend you want to have. With the heart of a gypsy this Aussie girl has made friends with the locals in over 300 cities. Now based in California 'Gigi' explores life with the motto that "travel is not to escape life, but for life not to escape us". Join her at www.itsbeautifulhere.com.